---
Overview
Food safety standards regulate the safety and suitability of food.  Safe and suitable are the words used by the Codex Alimentarius Commission in its basic texts on food hygiene to describe food that is fit for human consumption.
Certification for the food safety industry provides confidence to the client's customer that safety is continually maintained. Food Safety Standards aren't just for food processing organisations, rather for any organisation, from the farm to the fork.
Scheme
Hazard Analysis and Critical Control Points (HACCP)
The Codex Alimentarius Commission is responsible for developing international food standards, codes of practice and guidelines on behalf of the Food and Agriculture Organisation and the World Health Organisation, with the aim of protecting the health of consumers and ensuring fair practices in international trade.
In Australia, Food Standards Australia New Zealand (FSANZ) has developed a package of food safety reforms to update existing regulatory requirements and to ensure a nationally consistent approach to food safety.
As part of these reforms, FSANZ proposed that food businesses should be required, over time, to implement a food safety program based on Hazard Analysis and Critical Control Points (HACCP) to control potential food safety hazards. Standard 3.2.1 Food Safety Programs was developed for this purpose and forms the basis of Global-Mark's Certification program for HACCP.
---
---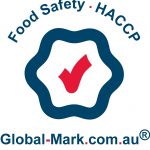 ---
ISO 22000
ISO 22000 is an international standard that specifies the requirements for Hazard Analysis Critical Control Point (HACCP) food safety management in organisations involved in the production, processing, transport or distribution of food products.
The six core elements of a food safety program are:
• Hazard identification: the systematic identification of hazards that may be reasonably expected to occur in the food handling operations of the business;
• Hazard control: the identification of the control point and controls for each hazard;
• Monitoring: the systematic monitoring of the controls;
• Corrective action: the steps to be taken when a hazard is not under appropriate control;
• Review: regular reviews of the program to ensure that it is still effective; and
• Record keeping: the records made and kept by a food business to show the action taken to ensure that the business complies with the food safety program.
Many food businesses are now required to document and implement a food safety program based on the HACCP principles. Certification to ISO 22000 can provide increased confidence and international recognition that food safety is being maintained by food businesses on a continuing basis.
---
---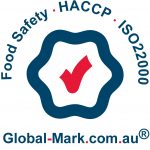 ---